ChainMate™ Universal Bicycle Chain Keeper
Regular price
$14.97
Sale price
$34.99
If you've ever taken the back wheel off a geared bike..
you KNOW the pain. 
Road, mountain or hybrid.. whatever your geared commute, you've probably encountered THIS problem. When the back wheel comes off, the chain is loose to scratch your frame, get tangled and stain the back of your car.

The ChainMate™ Universal Bicycle Chain Keeper is the ultimate fix. A clever, easy clean nylon bobbin, which will hold your chain firmly in place while you drive out to your next adventure.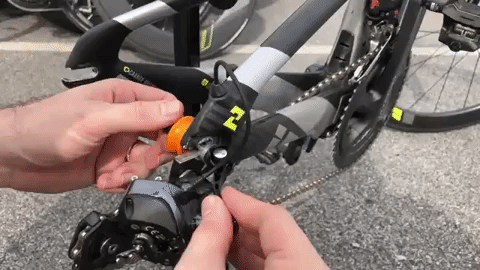 Wether you're cleaning your bike, doing some routine maintenance, or loading the back of the car - your chain-stay will remain tidy and protected. It clamps using the same quick release mechanism as most rear wheels, and will fit all bicycle makes and models. 
FEATURES:
High-quality, durable build mean this bike essential will outlive your bike. You'll be able to use it for years to come.
Small and compact enough to fit into your saddle bag or toolbox.
Easy-clean nylon bobbin - so smooth that chain grease will wipe away with a dry cloth. 
The only tool of its kind for maintaining chain tension while cleaning, storing, or transporting your bike
Fast and tool-free installation with a quick release skewer. 
The main nylon bobbin has in built bearings - which means you can spin your cranks, and continue your maintenance routine without a back wheel.
Package Contains:
1 x ChainMate™ Universal Bicycle Chain Keeper
---
Share this Product